Shipping & Receiving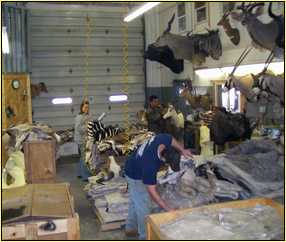 Ship Us Your Trophies!
Northeast Taxidermy Studios, Inc. is a U.S.D.A. – U.S.F.D.W. approved facility #LE 203624-O. This means we can receive restricted imports and also allows your trophies to travel directly to our studio for opening and inspection.
We will work closely with you and your outfitter to insure all permits and paperwork are handled correctly and arrange for a smooth safe arrival of your trophies through customs and directly to our studio.
Contact us before your next adventure for a complete shipping package.
Personal laminated shipping tags are provided by Northeast Taxidermy Studios for each skull, skin, and horns.
U.S. Cites Import Permits. Original cities permits must be sent by certified mail to Northeast Taxidermy. If you plan to hunt a CITES animal you must first acquire a CITES PERMIT. Address all questions or paperwork requests to U.S. Fish & Wildlife at 703-358-2104.
Shipping Fish to our Studio:
Freeze fish solid in plastic bag, wrap in one inch of dry newspaper and ship by U.P.S. Monday Only. Do not send on weeks with holidays. Call for more information. Fish will be returned C.O.D. by UPS.
Ship all game trophies and paper work to: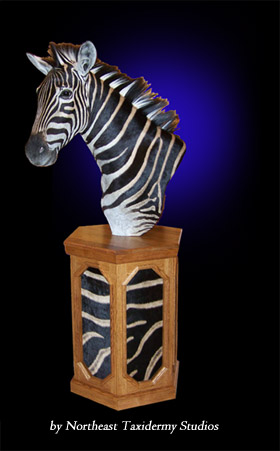 In Country

Out of Country
Your Name
c/o Northeast Taxidermy Studios, Inc.
770 Newfield Street.
Middletown, CT 06457
(860) 613-2067

Northeast Taxidermy Studios, Inc.
c/o Genus Logistics
Attn: Matthew Mayers
161-15 Rockaway Blvd.
Suite 205
Jamaica, NY 11434
(718) 790-0216
Alaska Receiving Station
Your Name
Northeast Taxidermy Studios, Inc.
c/o D & C Expeditors, Inc.
1200 East 76 Avenue, Suite 1228
Anchorage, AK 99518
(907) 344-9719
Terms and Conditions
Any advanced charges that have ben paid by Northeast Taxidermy Studios on your behalf are due within 10 days from the date of billing (shipping, customs clearance, documentation, brokerage fees, etc.)
A deposit of 50% is required before any taxidermy work begins. The balanced is due upon completion.
---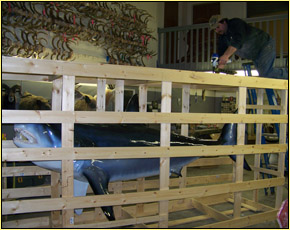 Return Shipping
Out of state customers: All orders outside the local pickup and delivery area will be shipped by U.P.S. or truck line. We offer a 20% to 60% discount on all collect motor freight shipments of your trophies from our studio to your home or office anywhere in the continental United States. Crating charges are quoted on an individual basis.
Local customers: Customers living in the local pickup and delivery area can claim their trophies during regular business hours. Monday through Friday 9:00am-5:00pm, Saturday by appointment only.
Delivery Available: For larger items or multiple piece orders, we provide a delivery service to your home or office anywhere in the tri-state area. Call office for price quote.