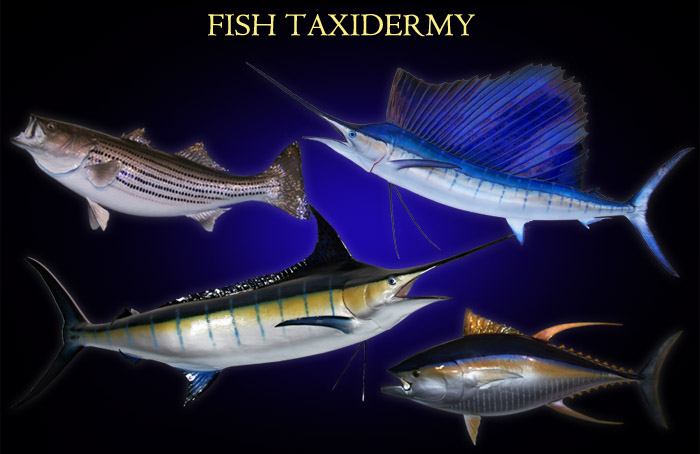 Fish Mounts, Museum Quality
Our fish mounts are museum quality art pieces that look like live fish. The finest materials combined with highly skilled workmanship that will last a lifetime without discoloring or aging. High action anatomical posing as well as color accuracy hold the key to a meaningful mount. We have the Knowledge and Capability to match seasonal color patterns as well as create custom underwater dioramas typical of the area which they came from.
Since 1976 Northeast Taxidermy Studios has mounted thousands of fish for serious anglers around the world as well as the top marinas, charter boat captains, professional athletes and Hollywood celebrities alike. Our fish mounts, which have earned an international reputation, are the reason we are one of the largest marine taxidermists today.


Whether it be a recent trophy or one caught years ago, just call us with the type of species, a length and girth measurement, and we will match it exactly! We have over 1,500 fish molds of all sizes and species in high action anatomical poses in stock, ready for immediate shipment to your home or office.

Fish Mount Gallery, Fish Replicas, Fish Reproductions, Specializing in Striped Bass Fish Mounts, Sailfish Mount, Blue Marlin Mounts, White Marlin Mounts, Tarpon Mounts, Yellowfin Tuna Mounts, Mako Shark Mounts, Dolphin Mounts, Salmon Mounts, Large Mouth Bass Mounts, Steelhead Trout Mounts, Brown Trout Mounts